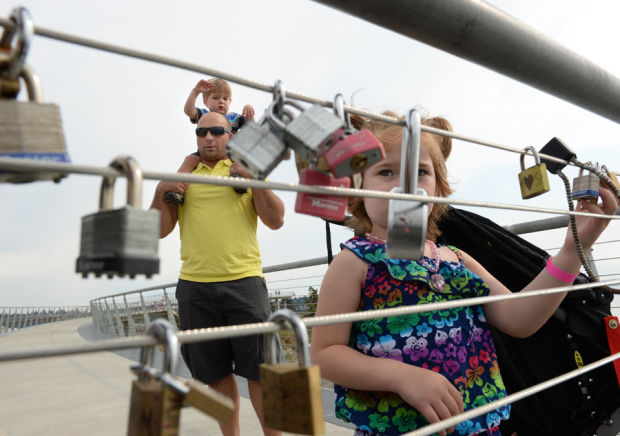 UNIVERSITY PLACE, Wash. – It's a romantic phenomenon that's spreading across the world, and now it's come to University Place: a bridge of locks.
In the relatively new tradition, a couple inscribes a lock with their names and possibly a date or a proclamation of their love. After affixing the lock to a bridge, they throw the key into the water below.
The most famous love lock bridges are in Paris, where some spans are so thick with padlocks they look as if they are about to collapse under their own weight. Bridges from Rome to Tokyo to Prague sport locks. And now, University Place.
In early March there was only one lock hanging on the Bridge to the Beach that crosses the railroad tracks at Chambers Bay Regional Park. Within a few days the number had grown to about half a dozen. As of Wednesday night there were 91 padlocks hanging on safety cables at the end of the bridge that juts over Puget Sound.
Some locks are combination, some are keyed, some look like they came straight from the locker room.
At Chambers Bay, the names of Cody and Carly, joined by a heart, are on one lock along with "July 25, 2001 Forever." Nearby, a brass lock sports only a glittery glued-on heart. A muscular antique lock reads "Mama (heart) Papa 7/7/13."
One lock contains a dual proclamation. "I will love you always – Wifey" is written on one side while the other side reads: "I will always cherish you – Hubby."
Some larger padlocks sport smaller locks, their meaning a mystery. A few use letters as their combination. Only their owners know what word opens the lock.
One lock speaks of a rough journey: "Jana & Jonathan -To hell and back." And one speaks of a journey yet to be taken: "Dani + Brittney – Let's Just Do it!"
While most of the locks seem to be about relationships, some might be dedicated to loves and lives lost.
One large lock is crudely carved with "Marie" on one side and a rusting heart on the other. Another lock is heartfelt in its simplicity: "To my Bayleigh. I love you. Love Mom"
Last week 8-year-old Daniella Ottwell-Donaldson, mother Brittney Ottwell and grandmother Patricia Ottwell came across the locks when they walked to the end of the bridge.
"I like it because it symbolizes love," Brittney Ottwell said of the rows of hanging locks. "A lot of people have a hard time understanding what love is all about."
But not everyone is happy with the new cultural trend. A 2012 story in The New York Times gave air to Parisians' disdain for the practice. Locks adorn – or disgrace – several bridges in Paris, including the Pont de l'Archevêché over the Seine just within sight of the Notre Dame Cathedral. It wasn't Parisians leaving the locks, the story stated. The culprits were that most despised of all Paris vermin: Tourists. Mon Dieu!
"The fools! They haven't understood a thing about love, have they?" a 23-year-old waiter was quoted saying. The French style of love, the Times writer concluded, meant always having the option to walk away. No locks needed.
Some historical bridges around the world have been so covered by locks that municipalities and other government agencies have removed them. In 2012, the Dublin city council had locks removed from the historic 1816 Ha'penny Bridge.
Pierce County spokesman Hunter George said the county is aware of the locks, but officials have no plans to remove them anytime soon.
"We're not encouraging it or discouraging it. But we do think there are better ways. If people really want to demonstrate their commitment to each other, we'd love to see them get married at Chambers Bay. We have great rates. Or get a tattoo. Or both."
Follow link to the source http://missoulian.com/lifestyles/territory/tradition-of-love-locks-comes-to-washington/article_0b13de8a-0115-11e3-9224-001a4bcf887a.html