Features of The MakeLoveLocks Designer
Super Powerful & Easy to Use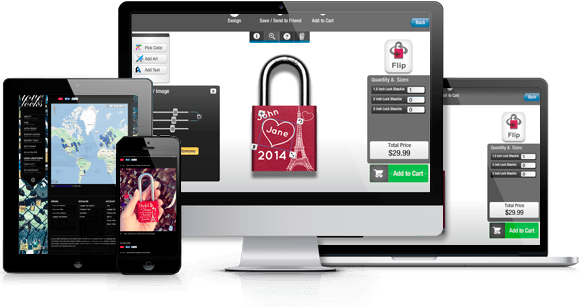 Our claim to fame is the unique MakeLoveLocks Designer. It allows our customers to be inventive in ways that can't be found anywhere else! 
Make it yours, design away

A spectrum of colors

Exclusive Hand-Drawn Clipart

Accessible, knowledgable, and friendly personnel 
 No two locks are the same

Front and Rear Engraving

High quality locks and permanent engraving

Makes a fun and unique gift
View The FAQ
[dt_benefits_vc columns_number="2″ header_size="h3″ content_size="normal" number="2″ category="home-captions"]
Instagram Inspiration!
A look at some of our latest favorite works contributed by YOU! Share your IG photos by simply adding #MakeLoveLocks
[dt_albums type="grid" padding="2″ column_width="50″ columns="3″ same_width="true" descriptions="on_hover_centered" hover_animation="direction_aware" loading_effect="fade_in" show_title="true" show_excerpt="true" show_miniatures="true" number="3″ category="couples,engraving,instagram"]
Clients & Testimonials
We have served thousands of happy customers across the world
[dt_testimonials type="slider" orderby="rand"]
[dt_testimonials type="slider" orderby="rand"]
About Us & Contact
Who We Are & How To Reach Us
The MLL staff votes for whats popping right now.  You asked for it!  Be warned!
Love padlocks originated from the Italian novel-come-film Ho vogila de ti and has since become a worldwide tradition to resilient and everlasting love. From Paris to New York to South Korea to everywhere in between, our love lock keys are tossed in a romantic expression of an unbreakable love.
Each handcrafted, custom-made love lock brings your most heartfelt experiences to life. Inspired by a European vacation, a group of Brooklyn artists sought to bring the love lock tradition to people across the world. Our interactive lock designer makes us different as we really allow our customers to stretch their creative wings and make their love lock a representation of their relationship. Best of all, it's easy to use! To help you capture your most precious memories, we have added our own personal touches to the lock designing process. The Make Love Locks team has crafted real artisan's designs and fonts solely for the interactive designer.  This allows you to create a one of a kind unique lock with endless combination of designs, colors, and text.  All of our locks are proudly made in America, and designs are carefully engraved within our shop located in Brooklyn, New York.